Going for a run is one of the sports with more followers. It's much cheaper than a gym and can be practices in almost any place and circumstance, even in the coldest days.
Winter running is actually much more comfortable than on very hot days. But for many, low temperatures can be a real turn-off. Forget your sloth and get in shape with winter running.
Here's the essential tips and the precautions you should follow to do it right.
Winter running: go for the warmest hourst
Early in the morning is the best time to go our running in the summer. But in winter, it's better to avoid dawn. It's the coldest time of day and you may find the asphalt wet and slippery because of the fog and the dew.
If you want to practice winter running, choose the warmest hours, around lunchtime. If you must choose between early in the morning or at sunset, go for the latter. It will be a bit warmer and you'll find it more comfortable to run.
Stretching is more important than ever
Your muscles react to heat. The warmest the environment, the more elastic yur muscles will be. That's why certain sports, like some yoga disciplines, are practiced with very high temperatures.
Whenever you go for a run you should stretch carefully before and after your race. But in winter running this is doubly important if you want to prepare your muscles for exercise and avoid injuries.
Don`t let cold bring you down
Giving in to the temptation of staying home in the coldest days is really easy. But you shouldn't let the cold bring you down.
Winter running can be magical and very satisfying. Find a beautiful place (city parks are beautiful in winter), or go out for your daily run with a friend. They're two great ways not to succumb to your laziness.
Wrap up in clothes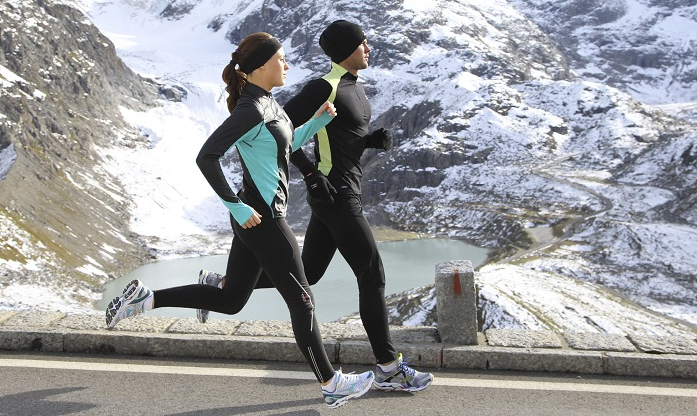 At the moment of maximum intensity of your run you'll fell hot and want to take off your clothes. But you shouldn't.
Dress properly if you want to practice winter running or you'll catch a cold and leave your muscles unprotected after exercising.
Buy some good-quality garments made of breathable fabrics. And always keep your head and hands warm with a good hat and gloves.
A hot shower and a broth for later
In summer, you probably take some fruit and vegs smoothies after your run. After winter running, try some hot vegetable broth. Low in fat and high in vitamins, it will restore your muscles and make you warm.
If you also take a hot shower with relaxing aromas you'll have a wonderful reward waiting for you when you come back from running.