Do you follow the same beauty routine throughout the year? The you're doing it all wrong. Our skin reacts to humidity, temperature and other elements which change with the seasons. And the coldest months are also the most aggressive ons for your skin.
If you want to have a healthy winter skin, here's a short list of the best tips. It all comes down to a few precautions and the best products. Put them into practice and your skin will glow!
Get a healthy winter skin: moisturizing
Keeping it moisturized is the first and most important step for a healthy winter skin. Winters are usually dry and very cold, so we need to pay more attention than ever to the humidity levels of our skin.
Choosing the right products and using them daily will prevent our skin from drying out. It's all about the right textures. In the summer, you must go for light creams or lotions which will absorbe easily. But in winter, it's essential to find a heavier, more dense cream. They will build a barrier between your skin and the cold.
Throughout the winter months, look carefully at your skin. If you see some cracking, redness or any other problem, it's because the moisture levels are too low. Apply your cream daily in the morning. And go for a comforting oil at night if you like.
Never forget your eyes, which have a very delicate and thin skin around them, and choose some good quality products for them. In your face, use a generous amount of cream and spread it with smooth, circular motions. Don't forget your neck and ears!
Don't use boiling water
Fewer things might be more comforting than a very hot shower on the coldest days of winter. But be careful, because steaming hot water can be a real enemy for your skin, especially if it's very dry or sensitive.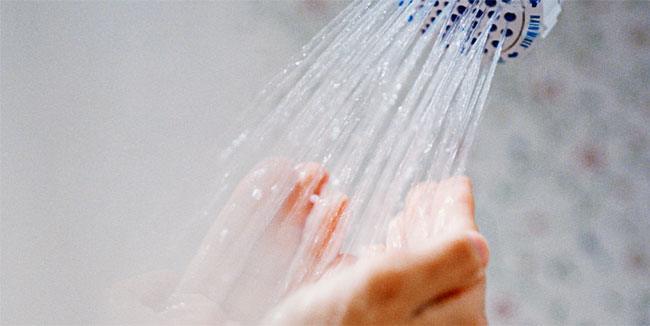 Boiling water can cause redness and turn your skin dry and itchy. Plus, drastic temperature changes are terrible. They can cause your capillaries to break when they expand and contract sudden and violently.
What products and ingredients to use?
Dry, sensitive or irritated skin in winter can be fought with some natural ingredients which have almost magical powers for your skin. Aloe vera is one of the best known ones, because of its healing and soothing properties.
But in winter you can also use creams made with honey, oatmeal or calendula, all of them extremely moisturizing ingredients. Pomegranate is perhaps not as popular, but equally powerful to protect your skin from the winter cold.
Sandalwood is particularly good in fighting redness in sensitive skins. Vitamin C helps you fight free radicals and musk rose will help wounds and eczema heal faster. As for textures, remember what we said before. Dense, heavy creams are perfect, as well as oils, balms and ointments.