Everyday, more and more consumers look for beauty products made with natural ingredients and smaller amount of chemicals. That's why today we talk about some of the best natural ingredientes for your skin.
Check put this list and start making the best of natural cosmetics!
Calendula, soothe and calm
People have been using calendula in beauty products for centuries. It's no wonder, since it has almost magical properties.
If you are looking to soothe and reduce inflammation of your skin, creams, tonics and calendula cleansers are perfect for you. In addition, since they are very soft, they are also indicated for the most delicate skins, those of the babies, since it helps to calm the chafing that the diapers can produce.
Sandalwood, reduce redness
Is your main concern to calm the redness? You will find in sandalwood one of the best allies. It is very easy to find this ingredient in oils for the face.
With it you can fight against allergic reactions, redness or outbreaks of rosacea.
Wild rose, say bye bye to spots or signs
Wild rose is a perfect natural ingredient for those who want to reduce the first wrinkles, sun spots or signs that acne has left on the skin.
It is also a deeply moisturizing ingredient, which will help maintain the natural elasticity of your face for longer.
Gotu kola or centella
There are many natural ingredients that help soothe sensitive skin. But if your skin is extremely delicate and intolerant, you should look for products made from gotu kola.
This plant has been used for centuries in Chinese and Ayurvedic medicine. And it has many properties for the skin. That is why it has been tried in treatments against leprosy.
Oily skin? Try bamboo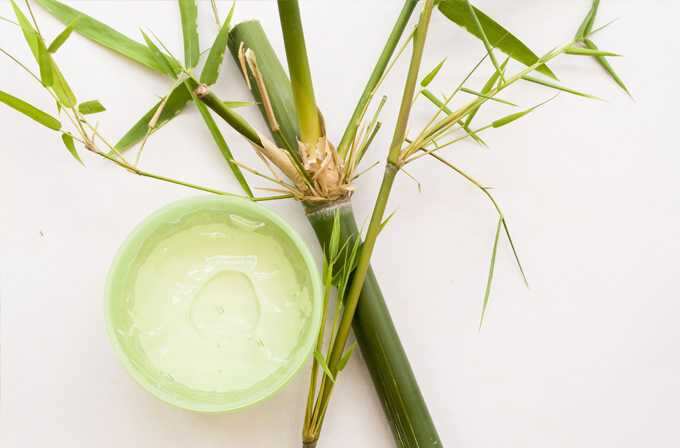 Mixed and oily skins have to main concerns: correct shines and reduce pores.
To fight against these two problems, you will find in bamboo one of your best allies.
Vitamin C and ginseng for luminosity
Dull skins with lack of luminosity will make the best of citrics and ginseng.
Using a cream based on these natural ingredientes every day will make your skin look brighter, healthier and more beautiful.